2019-11-12 mBank Hipoteczny S.A. has launched on euromarket its second issue of 300m euro, maturing in September 2025
The final orderbook in excess of EUR 1bn was characterized by a high degree of granularity with over 70 real money investors participating. The final re-offer spread of +43bps lies inside the estimated fair value level and thus implies a negative new issue concession of around -2bps. The coupon on this long 5 year bond will be only 0.242% - one of the lowest ever to be achieved by an issuer from Poland.
Book building
Books were opened at a guidance of MS +55bps area at 09.05 CET. Around one hour later at 10.04 CET the first update could already be sent out informing investors that books exceeded EUR 500mn (excl. JLM interest). Roughly 50 minutes later a second update communicated a revised guidance of MS +45bps area (+/-2bps) orderbook in excess of EUR 950mn (excl. JLM interest). Order book closed at 11:20 with a volume in excess off 1bn,  spread fixed at mid-swap +43 bps.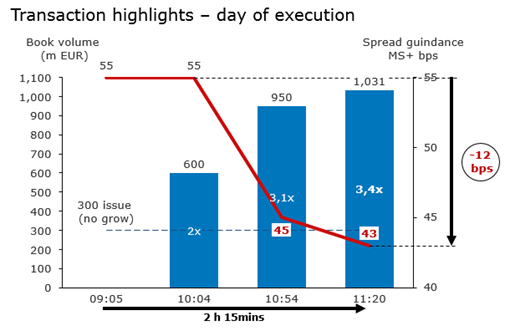 Investors
The final books comprised of 74 pan-European high quality accounts, dominated by German, Nordics and Austria.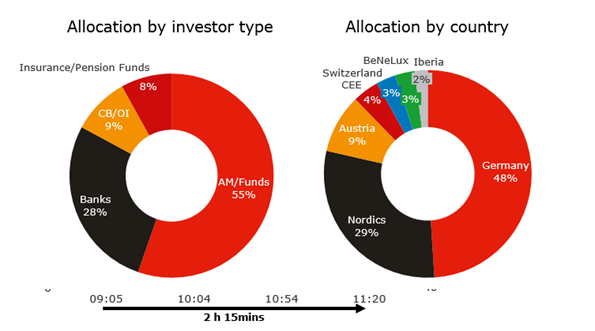 The success of this trade confirms the strength of the mBank brand in the European investor community and the fact that we are a leading banking group in an attractive economy. The transaction was preceded by solid preparations and investors work. 
Covered bond hedging swap
The covered bond issue was hedged with tailor-made cross-currency interest rate swap, that it is written into the cover pool and will survive an event of default of the issuer. The swap allows us to achieve the Aa3 rating by Moodys. This is the first swap of this kind in Poland with an external counterparty, the amount of such outstanding swaps in Europe is also very limited.